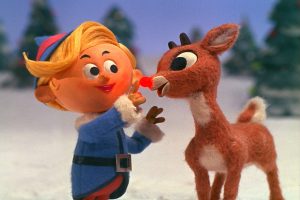 How a Department Store promotional piece turned into one of the most enduring Christmas characters ever…thanks to a widowed and financially challenged copywriter and a Jewish writer of Christmas hits
A legendary tale of Christmas began as a piece of promotion for Montgomery Ward a Chicago Department store in 1939.
Every year the Department store had given away colouring books for children and in 1939 decided to create their own book as a giveaway, briefing copywriter Robert L. May for the assignment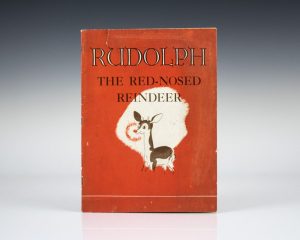 Rumours abound that May created it for his terminally ill daughter but this is an Internet fable. What is true is that May had lost his wife to cancer that year and he was left to bring up his 4 year-old daughter.  The store tried to reassign the project thinking, May was emotionally not up to the brief but May insisted on completing it. He later stated that ' I needed Rudoph more than ever at this time'. 'The store later assigned copyright to him to help him financially in 1947.
Originally the store rejected the story as a red–nose was at that time a reference to drunkenness.  May asked an illustrator friend at the store to submit some sketches of the character and the cute looking bouncy reindeer won them over.  There was also some debate about the name. Roland, Reginald Romeo and Rodney were also considered but rejected for a number of reasons such as being 'too English' or  'Too sunny'.
May also originally had Rudolph's 'superpower' as large eyes giving out headlight style beams, but realized that a red nose would be more of a feature that children would poke fun at. This was an essential part of the plot as May was inspired by the 'Ugly Duckling'. He wanted a character that was a born underdog and would be ribbed for being different.
May wrote the original story in Anapestic Tetrameter which is used for much comic poetry including most of Dr. Seuss material. It is also the meter in which another much older epic Christmas poem is written – "A visit from St. Nicholas" – published in 1823 and attributed to Clement Clarke Moore (though rumoured to have first been written by his friend Washington Irving.) . 

Here we can correct another commonly held belief: that Rudolph was one of the original reindeer. As St. Nicholas prepares to leave in his sleigh he "…called them by name. Now Dasher, Now Dancer, Now Prancer, and Vixen. On Comet, on Cupid, Donner and Blitzen."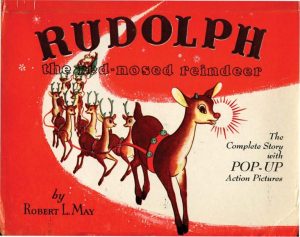 May's family connections meant that the Story of Rudolph was fated to become a song.  May's brother in law was the songwriter Johnny Marks –who specialized in Christmas Songs – even though he was Jewish.   (He is the author of several Christmas hits including 'I heard the bells on Christmas Day', 'Rocking around the Christmas Tree' and 'Holly Jolly Christmas. Rudolph the Red-nosed Reindeer was to be his biggest hit and is now the second best-selling Christmas record of all time – just behind White Christmas.
In 1964 the tale was made into an animated TV film by production company Rankin Bass. Narrated by Burl Ives it remains one of the the longest running Christmas specials.
The original puppets used in the film resurfaced on The Antiques Roadshow in 2006 and now, restored, are on show in a Puppetry Museum in Atlanta.
In our supersensitive social media world where everything is picked apart and over analysed some have read  darker motives into the tale. Some – largely commenting on the TV Special – claim the story encourages bullying and question why Santa didn't step in earlier to stop it. Others interpret it as a clear case of exploitation and that Rudolph was ignored until his unusual assets were recognized as the only way to save Christmas. New Republic argued that the story "presents a fairly grim, Hobbesian vision of society: If you want to be accepted, you have to prove your economic utility—which, in the case of magical flying reindeer, appears to only involve the annual sleigh-pull."
I prefer to see it as a simpler moral tale,  elements of which still ring true today. Respect everyone's differences and see that we all have something unique to add to the world.
Happy Christmas.
http://mentalfloss.com/article/72048/12-very-shiny-facts-about-rudolph-red-nosed-reindeer
http://christmas-specials.wikia.com/wiki/Rudolph_the_Red-Nosed_Reindeer_(Rankin/Bass)
https://en.wikipedia.org/wiki/Rudolph_the_Red-Nosed_Reindeer