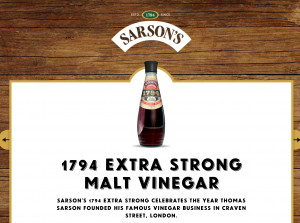 Our project for Sarson's vinegar is a perfect example of how digging into a brand's past can reveal some hidden gems for its future facing stories.
A visit to the factory in Middleton in Manchester became an inspiration. Sarson's revealed a world of wooden vats and provenance of ingredients that most craft beers would be jealours of. (The factory has a collection of 48 wooden vats which is more than any beer or cider company) What astounded us was the fact was that Sarson's goes through a craft brewing process every bit as complex as the finest beers.  In fact they brew a hop-free ale before its' 'acetified ' in Siberian pine vats some of which are over 150 years old.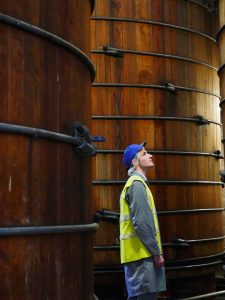 The vinegar is 'sparged' or passed through wood wool from the Welsh Marches for 7 days which Is 7 times longer than vinegar produced in the conventional way in stainless steel vats or tanks.
The research involved visiting the Metropolitan Archive in London and old adverts and articles revealed a 'golden age of vinegar in the 19th Century. Among the material was a page from a notebook of a chemist who worked at Sarsons. It showed that vionegar was stronger in the 19th century. It was the inspiration for  NPD of Sarson's 1794 – commemorating the year Thomas Sarson first brewed vinegar under the Sarson's family name in Craven Street in Shoreditch.

The factory is featured on the label we designed which is now on the shelf in Sainsbury's nationwide.